If there were a project management hall of fame, would you want to improve your winning streak? Here's how! 
The Cleveland Indians just completed a 22-game win streak that enabled them to clinch the American League Central Division title this year. If their coach, Terry Francona, wasn't already headed to the Baseball Hall of Fame, it's an accomplishment that is worthy of it. During the course of their run, they played 6 different teams, recorded 7 shutouts, and hit more home runs than the total combined number of runs scored by the other teams. How does a team string that many wins together? How can I increase my chances of putting my projects in the win column? To answer those questions, it's best to go to Francona's words directly. Each of the following quotes is from post-game interviews with Cleveland's coach throughout the streak about particular players or situations during the game. They show what it takes to string together win after win after win after… well, you get the idea.
"Really good base running." It's a fundamental piece of baseball. You can't just hit the ball and stand there. Even when you hit it out of the park, you have to make it around the bases. By turning a single into a double, you put yourself in scoring position. A base hit by the next batter means you have a chance to score a run.
In Project Management, consistently doing the fundamentals can put you in a position to finish early, reduce cost, or just successfully complete on-time and within budget. Examples include:
Adjusting the schedule to take better advantage of resources and timing
Updating Actuals and Estimates to Complete to get a clear picture of progress and adjust accordingly
Analyzing subcontractor and team delivery for both recognition and improvement
"We kept playing." Even when you're down a run or two, as long as you keep playing you have a chance to make good things happen. The same is true on projects. Not every deliverable is going to be on time. Not every piece of equipment is going to function. Not every milestone is going to be met. But as long as you are in the game and keep playing, the project can still be completed successfully.
Good players and good project managers know how to read the situation and make adjustments. Are your suppliers meeting their commitments? Can you anticipate a delay or risk and address it before it becomes a problem? Do you have the right people involved? Have you analyzed what-if scenarios to determine better alternatives?
Or maybe its time to look at the tools that you are using on your project. Is it time to evaluate off-the-shelf software like ARES PRISM that will streamline and support your projects, processes and procedures?
"Common sense says you're going to lose a game."  Francona takes a realistic view of baseball, winning, and life. Every swing of the bat isn't going to be a home run. The pitcher can't throw a no-hitter every time. Every game won't be a win.
You can plan everything perfectly, manage everything meticulously, and cover every contingency, but the odds are pretty good your project will have its challenges. Prepare yourself now for the possibility of failure so you can push through it, learn from it, and become stronger.
"Our message is always consistent: 'Show up and try to outplay them today". That's about the best you can do. On September 15, 2017, the win streak came to an end with a 3-4 loss against Kansas City. But Cleveland came back and beat Kansas City in the next 2 games.
As project managers, our job is to show up every day and get our teams to perform their best. At times, this may include:
Making a roster change. If a player can do more good elsewhere or they just aren't happy where they are, make the move.
Taking a visit to the mound. Sometimes a one-on-one conversation can settle down a pitcher and get them throwing strikes again.
Yelling at the umpire. Kick a little sand. Let him know what you really think. Standing up for your players can strengthen the team.
Even if we don't make it into the project manager's Hall of Fame, perhaps we can extend our winning streak.
---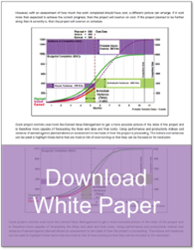 DOWNLOAD WHITE PAPER: WHY WE NEED (GOOD) PROJECT CONTROLS
This white paper explores why project management cannot be successful without strong project controls to keep the project on track. It identifies the components that make up a good project controls system (people, processes and software) and how this system ultimately helps an organization to achieve success.
Topics: Project Lifecycle Management, Helpful Tips, Project Controls